Venue & Hospitality
Pacific Gateway Hotel at Vancouver Airport
3500 Cessna Drive Richmond,
British Columbia, V7B 1C7, Canada
Contact Person:
Pam Gill | Sales Manager
Conference Dates: June 27-28, 2018
Hotel Services & Amenities
Audio/Visual Equipment Rental.
Business Center.
Business Phone Service.
Complimentary Printing Service.
Express Mail.
Fax.
Meeting Rooms.
Office Rental.
Photo Copying Service.
Secretarial Service.
Telex.
Typewriter.
Video Conference.
Video Messaging.
Video Phone.
ATM.
Baggage Storage.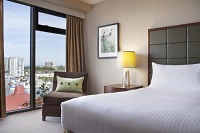 Transportation
Vancouver International Airport 3211 Grant McConachie Way, Richmond, BC V7B 0A4, Canada
Take Grant McConachie Way E and Miller Rd to Cessna Dr • Head north-west on Grant McConachie Way E 54m
• Keep right to stay on Grant McConachie Way E 1.3 km
• Continue straight to stay on Grant McConachie Way E 1.1 km
• Turn right onto Aurora Connector 33m
• Turn left at the 1st cross street onto Miller Rd 1.0 km
• Turn right onto Russ Baker Way S 700m
Continue on Cessna Dr to your destination 3 min (900m)
• Turn left onto Cessna Dr 600 m
• Turn right onto Lysander Ln 35m
• Turn left 21m
• Turn left 120m
• Slight right 57m
• Turn right 63m
Pacific Gateway Hotel at Vancouver Airport
3500 Cessna Dr, Richmond, BC V7B 1C7, Canada
About City
Vancouver, a bustling west coast seaport in British Columbia, is among Canada's densest, most ethnically diverse cities. A popular filming location, it's surrounded by mountains, and also has thriving art, theater and music scenes. Vancouver Art Gallery is known for its works by regional artists, while the Museum of Anthropology houses preeminent First Nations collections. Vancouver has a moderate, oceanic climate. Protected by the mountains and warmed by the Pacific ocean currents, Vancouver is one of the warmest cities in Canada. Vancouver is consistently rated as one of the top cities in the world to live. The combination of economic opportunity and the beautiful, natural environment draws people from around the world. These newcomers - like you - contribute to Vancouver's diversity and live ability. Vancouver is made up of a number of smaller neighborhoods and communities. Neighbourhood boundaries provide a way to break up the city's large geographical area for delivering services and resources and identify the the distinct culture and character of different areas of our diverse population. However, there is some disagreement on all of the names and boundaries of these areas.
Vancouver is consistently named as one of the top five worldwide cities for livability and quality of life, and the Economist Intelligence Unit acknowledged it as the first city to rank among the top-ten of the world's most live able cities
Vancouver has hosted many international conferences and events, including the 1954 British Empire and Commonwealth Games, UN Habitat I, Expo 86, the World Police and Fire Games in 1989 and 2009 and the 2010 Winter Olympics and 2010 Winter Paralympics which were held in Vancouver and Whistler.
Attractions & Landmarks
Attractions & Lanadmarks are Updating Soon...